Herzlichen Glückwunsch!
Auch auf der diesjährigen GfI-Tagung 2023  wurden wieder die besten studentischen Beiträge prämiert. Die Jury hatte es dabei recht schwer, da alle Beiträge, ob mündlich vorgetragen oder als Poster präsentiert, von hoher Qualität waren, und es am Ende ein sehr "knappes Rennen" wurde. Nun freuen wir uns aber, die ersten drei Plätze vorstellen zu dürfen:
Erster Preis – Der Preis für den besten Vortrag geht an Max Licht
"Sealions interfere with striped marlin hunting behaviour in multi-predator aggregations"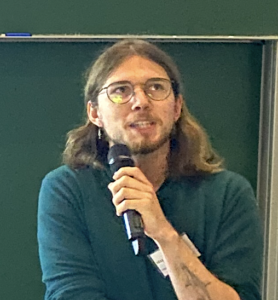 Multi-predator aggregations, where more than one predator species prey upon the same target, are frequent occurrences in marine environments, especially in the pelagic. These mixed predator aggregations typically hunt large groups of relatively small and highly cohesive prey. However, the mechanisms and functions of these mixed predator aggregations are largely unknown. Although often assumed to be mutualistic, basic knowledge on the between-predator interactions is typically missing. Thus far most studies have relied on above-surface observations, recordings of attack and capture rates of marine multi-species predator aggregations, which are critical in understanding how and why these interactions have evolved, are almost completely non-existent owing to logistical challenges. Using underwater video, we quantified the attack and capture rates of two high-trophic level marine predators, California sea lions (Zalophus californianus) and striped marlin (Kajikia audax) attacking schools of fishes in the Southern California Current System, offshore the Baja California Peninsula. Recording over 5000 individual attacks across 13 fish schools, which varied in species, size and predator composition, we found that sea lions kleptoparasitised striped marlin hunts and negatively affected the frequency of marlin attacks and captures via interference competition. Although not universally applicable, these findings raise questions about the prevalence of between-predator mutualisms in pelagic multi-species aggregations and underscore the importance of case by case evaluations.
Den zweiten Preis teilen sich Meret Neske und Korbinian Pacher
Meret Neske – "Verhaltensunterschiede zwischen Asiatischen und Europäischen Schlammpeitzgern"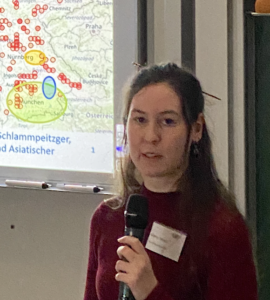 Der Europäische Schlammpeitzger (Misgurnus fossilis) gehört in Deutschland zu den stark gefährdeten Fischarten. Die zunehmende Konkurrenz mit gebietsfremden Schlammpeitzgerarten aus Asien könnte die Populationsentwicklung zusätzlich negativ beeinflussen, allerdings ist deren Verhalten außerhalb ihres natürlichen Lebensraums weitestgehend unbekannt. In standardisierten Aquarienversuchen wurden die Schwimmaktivitäten, Luftatmungsintensitäten und die Häufigkeit des Grabens und Vergrabens entlang eines Sauerstoffgradienten zwischen Europäischen und Asiatischen Schlammpeitzgern aus norddeutschen Wildfängen verglichen. Außerdem wurde die Präferenz für verschiedene Sedimenttypen (Schlamm, Sand, Kies) in replizierten two-way-choice-Experimenten untersucht. Asiatische Schlammpeitzger stiegen zur Luftatmung ungeachtet der Sauerstoffkonzentrationen auf, während Europäische Schlammpeitzger vermehrt Luftatmungsaktivitäten bei sinkenden Sauerstoffkonzentrationen zeigten. Im Rahmen der Beobachtungen bei Tageslicht war die Anzahl der Schwimmbewegungen zwischen beiden Gruppen vergleichbar, allerdings verbrachten Asiatische Schlammpeitzger mehr absolute Zeit mit aktivem Schwimmen. Zusätzlich haben Asiatische Schlammpeitzger häufiger gegraben und sich vergraben, während dieses Verhalten bei den heimischen Fischen auf feinem Kiessediment nahezu nie beobachtet wurde. Asiatische Schlammpeitzger zeigten insgesamt keine klaren Präferenzen bei der Wahl des Sedimenttyps, während Europäische Schlammpeitzger schlammige Bodensubstrate bevorzugten und eine signifikante Abneigung gegenüber Kies zeigten. Die Ergebnisse deuten auf eine flexiblere Habitatwahl, hohe Anpassungsfähigkeit und intensivere Schwimmaktivität von gebietsfremden Schlammpeitzgern hin, wodurch sie im Vergleich zum Europäischen Schlammpeitzger mehr Lebensräume erschließen und sich vergleichsweise rasch ausbreiten könnten.
Korbinian Pacher – "Increased thermal tolerance under anoxic conditions in an extremophile fish from hot sulfur springs in Mexico"
The thermal ecology of ectotherm animals has gained considerable attention in the face of human induced climate change. Particularly in aquatic species the experimental assessment of critical thermal limits (CTmin and CTmax) may help to predict possible effects of global warming on habitat suitability and ultimately species survival. Here I present data on the thermal limits of two endemic and endangered extremophile fish species, inhabiting a geothermally heated and sulfur-rich spring system in Southern Mexico: The sulfur molly (Poecilia sulphuraria) and the widemouth gambusia (Gambusia eurystoma). Besides physiological challenges induced by toxic hydrogen sulfide and related severe hypoxia during the day, water temperatures have been previously reported to exceed those of nearby clearwater streams. I now present temperature data for various locations and years in the sulphur spring complex and conducted laboratory thermal tolerance tests (CTmin and CTmax) both under normoxic as well as sever hypoxic conditions in both species. Average CTmax limits did not differ between species under normoxic conditions. Surprisingly P. sulphuraria was found to reach a higher critical temperature (CTmax = 43.2°C) when tested under hypoxic conditions, while G. eurystoma on average had a lower CTmax when oxygen was absent. Based on this data we calculated both species' thermal safety margins and used a TDT (thermal death time) model framework to relate our experimental data to observed temperatures in the natural habitat. Our findings suggest, that both species live near their thermal limits during the annual dry season and are locally already exposed to temperatures above their critical thermal limits. This research was carried out as a close collaboration between researchers and students from Berlin, Germany and Villahermosa, Mexico in a project that has been partially funded by the GFI (Kleinprojektförderung). Apart from discussing findings related to the actual study I will touch upon the important issue, how we as western researchers can actively engage in sustainable and equally beneficial long-term collaborations with local researchers from regions we regularly visit for our fieldwork.
---
Kontakt
Max Licht
Department of Fish Biology, Fisheries and Aquaculture, Leibniz Institute of Freshwater Ecology and Inland Fisheries, Müggelseedamm 310, 12587 Berlin
Meret Neske
Ökologie und Naturschutz, Fakultät Natur und Technik, Hochschule Bremen, Neustadtswall 30, 28199 Bremen, Deutschland
Korbinian Pacher
Department of Biology and Ecology of Fishes, Leibniz-Institute of Freshwater Ecology and Inland Fisheries, 12487 Berlin, Germany; Faculty of Life Sciences, Albrecht Daniel Thaer-Institute, Humboldt University of Berlin, 10115 Berlin, Germany
---
Fotos: Gfi (Heiko Brunken)